Ask yourself these questions:
1. Does the text message reference the last four digits of your debit card #?
CBC's Fraud Department will know your card number. A Fraudster MAY, but not likely. Proceed with caution.
2. Does the text message contain a link in the text?
A CBCBank text will ask you to respond; not click a link. The phone number listed (833.735.1897) may appear as a link, but it is not. Dial the number manually to be cautious.
3. Did you also receive an email and/or phone call with the same notification?
CBC's Fraud Department will attempt to contact you on every contact method listed on your debit card file (text, email, phone.)
4. Has your card stopped working for you?
Yes: REAL

No: Not necessarily an indicator.
CBC's Fraud Department will restrict the card due to the transaction in question based on the level of discomfort the transaction is causing the rating system.
When you're concerned about Fraudulent Activity:
1. Log into your Online Banking to review your account.
Because CBC's Fraud Department most likely restricted this particular transaction, you will not see it as a pending item. However, it is always safe to review your account activity anytime you feel there may have been fraud.
2. Call your financial institution and review your account with a bank representative.
Fraudulent charges that have cleared your account may be able to be disputed.
How can you prevent fraud on your account?
1. Download the Card Valet app from your app store. This is an additional app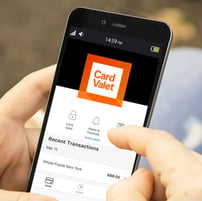 provided by CBCBank that allows you to:
manage your debit card on your own
freeze and unfreeze your card
receive text notifications for every purchase
*email address required for registration
2. Use 2-Step Verification on your Google account / email browser to secure your email account.
This would prevent a hacker from accessing your email account from a new workstation.
3. Monitor all account activity daily through Online Banking.
4. Never click links or open attachments that are unfamiliar or unsolicited. Doing so can allow fraudsters access to your computer and all programs you are using.